The Link between Polyphenols and Mental Health
A diet high in polyphenols may impact mood and mental health symptoms. Polyphenols are naturally occurring "antioxidants" in plant fibers, as they help remove free radicals and prevent oxidation. This offers health benefits by reducing inflammation, and hence, contribute to improved mood and mental health symptoms.
Polyphenols act as fuel for the beneficial gut microbes, emerging as prebiotics. Since polyphenols are prevalent in plants, it is ideal to get them from your diet. The two most common types of polyphenols are Tannins and Flavonoids. Tannins provide the most anti-inflammatory benefits, and are found in food like dark chocolate, berries, and tea. Herbs and spices such as sage, thyme, rosemary, cinnamon, cumin also provide the anti-inflammatory benefits.
Flavonoids are found in onions, scallions, grapes, Green tea (known to have neuro protective effects). Eating a wide variety of fruits, vegetable, whole grains, beans, nuts, seeds, herbs, spices, and teas, from a wide range of colors is ideal to boost the polyphenol intake from your diet. Eating organic when possible will enhance the benefits of the polyphenols.
Mini Mediterranean Frittatas
Get a taste of the Mediterranean at breakfast with these mini frittatas!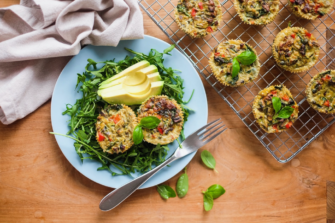 Ingredients:
[5 grams] 1 teaspoon (5 milliliters) olive oil
[120 grams] 1 cup zucchini, quartered lengthwise and then sliced into ¼-inch thick wedges
[70 grams] 1 cup baby bella mushrooms, roughly chopped
[45 grams] ⅓ cup red onion, finely diced
[60 grams] 2 cups spinach
[45 grams] ¼ cup Kalamata olives, pitted and chopped
[2 grams] ½ teaspoon dried oregano
[300 grams] 6 large eggs
[120 grams] ½ cup (120 milliliters) fat-free milk
Black pepper to taste
[35 grams] ¼ cup crumbled feta cheese

Directions:
Preheat oven to 350˚F (177˚C) and lightly oil each well of a muffin pan with olive oil.
Heat oil in a large skillet over medium heat, then add zucchini, mushrooms and onions.
Sauté for 2 minutes, stirring to ensure even cooking.
Reduce heat to medium-low and add spinach, olives and oregano.
Stir to combine and cook for 2 minutes or until spinach is wilted.
Remove skillet from heat and allow vegetables to cool slightly.
In a large bowl, whisk eggs, milk and black pepper.
Add cooked vegetables and cheese to egg mixture and whisk until combined.
Scoop ¼ cup plus 2 tablespoons egg mixture into each muffin pan well. Place pan on the middle oven rack and bake for 20 minutes. Eggs should reach an internal temperature of 160°F (71°C) and be set with no runny liquid remaining on top.
Allow to cool for 5 minutes before carefully removing mini frittatas, using a table knife to loosen the edges.
Enjoy immediately or store in an airtight container in the refrigerator for up to 3 days. When ready to eat, reheat in the microwave for 30 seconds. Serves 5.
Nutrition Information
Serving size: 2 mini frittatas
CALORIES 128; TOTAL FAT 8g; SAT. FAT 3g; CHOL. 202mg; SODIUM 211mg; CARB. 4g; FIBER 1g; SUGARS 2g; PROTEIN 9g; POTASSIUM 300mg; PHOSPHORUS 184mg
Visit Our Registered Dietician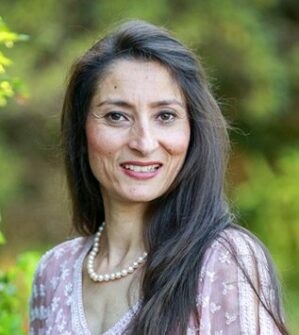 Good nutrition plays a major role in how we feel and how we age. Making the correct choices about what to eat can improve your physical and mental well-being, and can help prevent certain medical conditions, and manage disease. Our dietician, Kiran Boparai, R.D.N., will take a careful review to determine information about your current diet and medical condition. She will also help in establishing a realistic short term and long-term plan, along with goals.
Schedule a nutrition consultation today, 949-829-5533!