Gestational Diabetes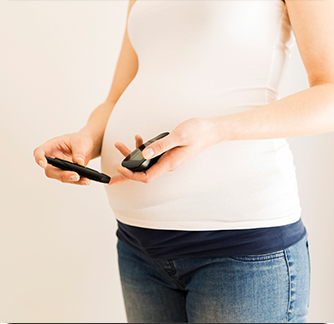 Symptoms of Gestational Diabetes
For almost all women, gestational diabetes is asymptomatic. This means that it has no apparent symptoms. This is why consistent testing and observation is important for women who are pregnant.
Gestational diabetes can be detected with a few different tests. These include a glucose challenge test, which is used to measure blood sugar levels and glucose intolerance testing, which does the same. Blood glucose tests provide the best indicator of a case of gestational diabetes.
If gestational diabetes is detected, treatment will be provided. While there is no cure for gestational diabetes, it is temporary and many options are available to mitigate symptoms and protect the health of the mother and child.
Causes of Gestational Diabetes
It is not known why some women are more likely to develop gestational diabetes than others. Part of the issue may stem from the hormonal changes created by pregnancy. Some of the key hormones generated by the reproductive system can have the unwanted side-effect of blocking insulin.
Certain risk factors also make a woman more likely to develop gestational diabetes during pregnancy. These risk factors include:
Age: Women over age 25 are more likely to suffer from gestational diabetes.
Genetics: Having diabetes run in the family – gestational or otherwise – can contribute as well.
Weight: Being overweight is one of the strongest gestational diabetes risks. It's important to maintain healthy eating and exercise throughout pregnancy.
Treatment for Gestational Diabetes
Once discovered, there is no way to eliminate gestational diabetes. This means that gestational diabetes treatment instead focuses on controlling the problem. Some methods of gestational diabetes treatment include:
Blood Sugar Monitoring
Frequent OB Check-Ups
Diet & Exercise Plans
Insulin Injections
Stress Reduction
Request More Information Today
Gestational diabetes can seem frightening or confusing, but many different treatment plans are available. Request more information about gestational diabetes today: call (949) 829-5500 or request an appointment online.