Comprehensive Blood Panel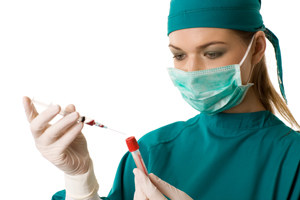 You and your doctor learn a great deal about your health by testing your blood. Blood tests show whether the levels of different components in your blood fall within a normal range. Many medical problems can't be diagnosed with a blood test alone; however the results can help you and your doctor learn more about your health. Blood tests also can help find potential problems early. Laboratory Tests support the findings of a physical exam and enable your doctor to make a more accurate diagnosis.
At OCWMG, we perform many diagnostic tests in our state of the art laboratory adjacent to our Laguna Hills office. This provides a great convenience for our patients as they can be have their blood drawn right here in our office and results can be downloaded into our system quickly, in some cases, the same day.
After results are reviewed by your doctor, they are released to the patient portal on our website where you can view them using your unique sign in and password.
There are a few results that may not be released electronically to the portal. A description is provided on your "My Results" page inside the patient portal.
Our site is HIPAA compliant and no patient information is actually stored on the website. We use sophisticated technology to protect our patient's privacy. Only you have access to your online portal as we do not store personal passwords.
**Most insurance plans have benefits that cover all or a portion of your labs. It is advisable for you to check with your insurance company prior to your blood draw to see if covered by your policy. The number to your insurance company is listed on the back of your insurance card**