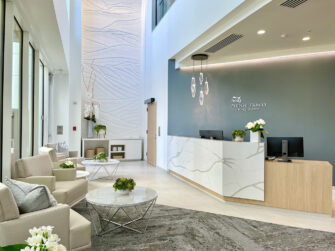 The maternity services at Hoag Hospital Irvine are an extension of the world-renowned maternity services at Hoag's Newport Beach campus. As the leading provider of maternity services in Orange County and second largest in California, Hoag is uniquely positioned to reimagine the experience of pregnancy, delivery and recovery for modern families.
Every maternity suite at Hoag Hospital Irvine is private and especially designed for family-centered care. All suites include a private bathroom and accommodations for one adult support person to stay the night. The Fudge Family Birthing Suites on the ground floor offer the ability for moms to experience labor, delivery and their first precious moments with their newborns in a spacious room with home-like amenities. After labor, delivery and recovery, mothers and babies may be transferred to the Mother Baby & Antepartum Suites on the sixth floor. These private maternity suites are intended for antepartum and postpartum care of moms and their newborns.
The hospital has two dedicated operating rooms for Cesarean deliveries and a special care nursery for newborns needing extra medical attention. The unit is staffed 24/7 by an expert team including OB/GYN hospitalists, certified nurse midwives, Magnet®-designated nurses, and board-certified anesthesiologists and neonatologists.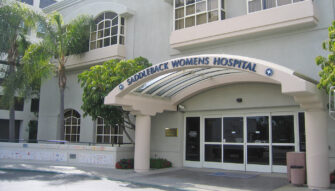 We are proud to partner with The Women's Hospital at Saddleback Memorial to provide our patients with the best care possible. Serving the community for 25 years, the hospital has been the birthplace of over 60,000 babies.
The Basics and Beyond. Each of the hospital's newly renovated private LDRP suites is designed to provide a calm, nurturing environment. And to ensure your comfort and care, anesthesiologists and neonatologists are available 24/7.
Expert Care for the Tiniest Patients. To give you peace of mind when you need it most, the hospital offers an on-site level III Neonatal Intensive Care Unit (NICU) ready to care for infants requiring immediate, advanced care.