Jump To Section
Meet Our New Physicians!

We are excited to announce 3 new additions to our OCWMG family: Dr. Amy Peters, Dr. Renee Chen, and Dr. Linda Chung. All three physicians come to OCWMG with more than 10 years of experience providing top-notch clinical education and knowledge. Coupled with their passion for providing for women, they are ready to offer the best advice and treatment options available.
New Office Locations
In partnership with Hoag, we just opened the doors to a new office in Tustin! To add to that excitement, in January 2020, we will be providing health services in Foothill Ranch.
Tustin – Now Open
15000 Kensington Park Drive
Suite 370
Tustin, CA 92782

Walk-ins are welcome!
You can see the following doctors for services:
Dr. Kim Lam, Dr. Tasha Kalra, Dr. Mita Patel, Certified Nurse Midwife, Melissa Alexander, & Dr. Renee Chung
Foothill Ranch – Coming Soon
26672 Portola Parkway
Suite 108
Foothill Ranch, California 92610
Opening January 2020.
Appointments now available. Walk-Ins are welcome!
The following doctors will be providing services:
Dr. Sheila Dejbakhsh, Dr. Kerry Price, Dr. Brian Koperek, Dr. Amy Peters and Nurse Practitioner Beverly Naglestad
Call to schedule your appointment: 949-829-5533
Online Check-In

We have officially implemented an Online-Check-In process to help reduce wait time and paperwork. Confirm your appointment via a text message or email, and check in prior to your visit. This gives you the opportunity to update your demographics, insurance, and health information on your own time. Check it out! We promise you'll like it!
Patient Portal

Athena Patient Portal is a secure online website that gives patients convenient, 24-hour access to personal health information from anywhere.  Through the convenient patient portal, you can schedule appointments, access forms, make payments, and even send your physician or nurse a question.
For your convenience, the ticklers in your chat contact you when you are due for your next appointment. These come with reminder calls to help with scheduling your annual exams and any other appointments your physician has requested.
Please note: Reminder Call staggers the delivery of emails, texts, and phone calls over a sequence of days (Email message sent 1st, Text message 2nd, Phone call last). To help reduce the amount of notifications you receive:
Login to your patient portal and update your contact preference by unchecking the boxes for either text, call or email.
Acknowledge/confirm your message at any point in this sequence of notifications, no further messages will be sent. The best-practice is to confirm your appointments via email before we follow up with a text message and then a phone call.
Please note by law we must announce you have test results available to view whether it be positive or negative.
Updates & More

Did you know we speak your language?
Good communication is important when it comes to your health. Our team is ready to help you in various languages:  Farsi, German, Greek, Gujarati, Hindi, Korean, French, Mandarin, Spanish, Vietnamese, and Cantonese.
We'd love to hear from you!
Share your story! If you'd like to submit any pictures or words about your birth/patient experience with OCWMG, please email us at education@ocwmg.com.
Parking News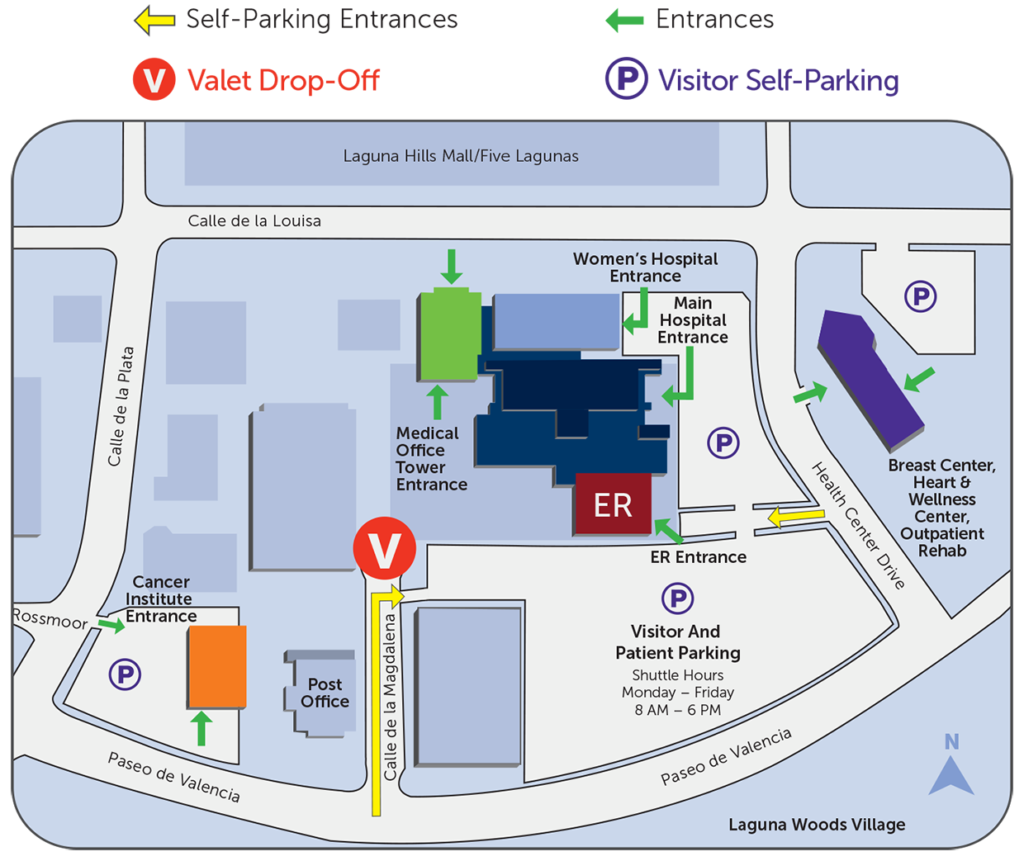 Patients and visitors have the option of complimentary valet parking service from 7:30am – 6pm, Monday – Friday.
The service is available at the entrance off Calle de la Magdalena, at the roundabout. A shuttle will drop off patients and visitors at the Medical Office Tower entrance, which also connects to all areas of the hospital. See map above.
Nutrition Tip
Eating a healthy balanced breakfast daily can save you 300 to 400 calories a day. By skipping breakfast, you crave more carbs as the day goes on. Good nutrition is crucial to your health. Food plays a major role in how we feel and how we age. Is nutritional counseling right for you? To take a path toward healthier living, call (949) 829-5533 or contact us online.