Master Your Well Being with NurtureVR
Hoag and Orange Coast Women's Medical Group are excited to offer NurtureVR, an innovative virtual reality program (VR) for expectant mothers that uses modern technology to augment prenatal education, pain management related to pregnancy, mindfulness, and support women through postpartum care.
NurtureVR is a first-of-its-kind program for expectant mothers. The cutting-edge program was built upon decades of research into VR technology and its ability to mitigate pain, create experiential learning environments, lower stress, and improve well being. With NurtureVR, the focus is on the well being of both mothers and their babies. Expectant mothers will undergo different environments, sounds, and visual experiences, based on their preferences – all from the safety and convenience of their own home.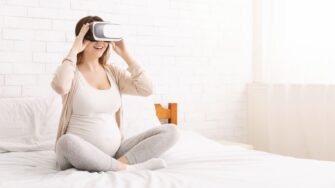 VR technology is currently being used at Hoag as a highly effective tool for patient care and is now available to OCWMG patients.
An Immersive Experience
To support expectant mothers, this program provides access to 14 weeks' worth of:
Prenatal Education
A Glimpse of Baby's Growth and Development
Mindfulness (Stress Reduction)
Pregnancy-Related Pain Management
Mood and Mental Health
After your baby is born, the program continues for an additional eight weeks, with topics that cover maternal-baby bonding, partner intimacy, stress, and hormonal and emotional changes. This unique, personalized program nurtures mothers' relationships with their babies, lowers stress and promotes wellbeing.
Shaping the Future of Medicine
Hoag and OCWMG are taking the necessary steps to advance technologies that will improve the lives of patients every day. By leading the nation in the use of virtual reality for surgery, pain management and maternal care, we encourage our patients to follow along in their own wellness journey. The result is care that is both exceptional and immersive.
Contact Your Local Obstetrician
For additional questions about this new offering, email Hoag for Her Center for Wellness, or ask our expert obstetricians how you can experience a NutureVR demo during your Glucose Test or next OB visit. Contact Orange Coast Women's Medical Group directly at (949) 829-5500 with all other questions, or to schedule an appointment please call (949) 829-5533. We're excited to help you along your journey of health and wellness!