NurtureVR Clinical Study
Using VR headsets in their homes, women can access 22 weeks of educational material, mindfulness skills, breathing exercises, and other immersive experiences. The week-by-week content continues for 8 weeks after the baby is born with tools that cover topics such as maternal-baby bonding, partner intimacy, stress management, and hormonal and emotional changes.
Qualifying Criteria
Before 26 weeks of pregnancy; program content begins in week 27 of pregnancy
Receiving prenatal care at Orange Coast Women's Medical Group
Steady internet connection and access to smartphone
Sign up for the study
Virtual Reality Unlocks New Potential In Maternal care
Hoag has co-developed NurtureVR, a virtual reality program designed by Allyson Brooks, M.D., Ginny Ueberroth Executive Medical Director Endowed Chair and Chief Quality Officer, Hoag Women's Health Institute and neurosurgeon Robert G. Louis, M.D., program director of the skull base and pituitary tumor program at Pickup Family Neurosciences Institute and Hoag Empower360 Endowed Chair for Skull Base and Minimally Invasive Neurosurgery.
This was done in partnership with BehaVR. NurtureVR harnesses the latest research in virtual reality's positive effects on education and empowerment, behavioral health, and pain management. NurtureVR provides access to 14 weeks' worth of perinatal education, mindfulness and meditation capabilities and other immersive experiences to support expectant mothers. After the baby is born, the program continues for an additional eight weeks, with topics that cover maternal-baby bonding, partner intimacy, stress, hormonal and emotional changes. Building on decades of research, this unique, personalized program nurtures mothers' relationships with their babies, lowers stress and promotes wellbeing.
"The goal is to nurture the relationship of the mother with her growing baby. We have incorporated the insights of women who are pregnant, were recently pregnant or are trying to become pregnant to ensure that no matter what kind of pregnancy you are experiencing, Hoag is going to take care of you the way only Hoag can. How a woman experiences pregnancy, delivery and the postpartum period is highly personal. NurtureVR was designed to meet each woman where she is."
– Allyson Brooks, M.D., the Ginny Ueberroth Executive Medical Director Endowed Chair of Hoag Women's Health Institute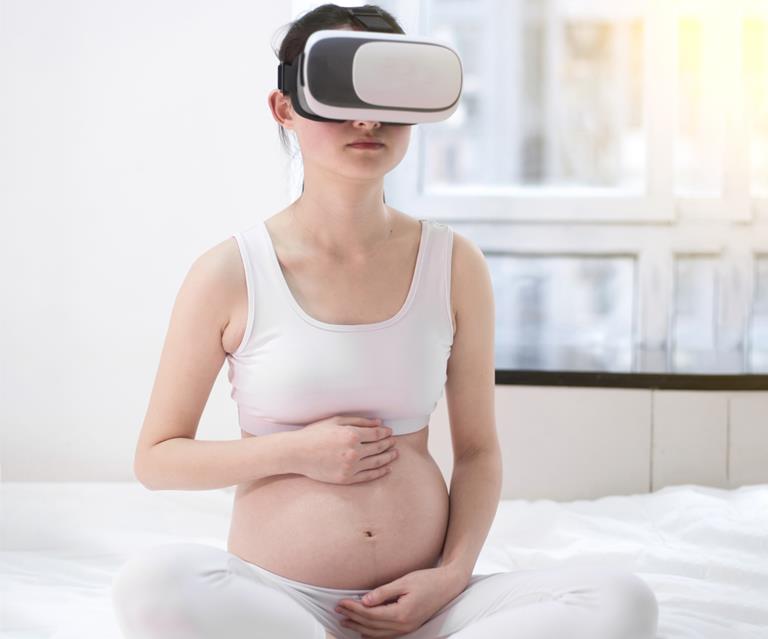 Hoag is a nonprofit, regional health care delivery network in Orange County, California, that treats more than 30,000 inpatients and 480,000 outpatients annually. Hoag consists of two acute-care hospitals – Hoag Hospital Newport Beach, which opened in 1952, and Hoag Hospital Irvine, which opened in 2010 – in addition to nine health centers and 13 urgent care centers. Hoag has invested $261 million in programs and services to support the underserved community within the past five years, including areas like mental health, homelessness, transportation for seniors, education, and support for single mothers. Hoag is a designated Magnet® hospital by the American Nurses Credentialing Center (ANCC). Hoag offers a comprehensive blend of health care services that includes five institutes providing specialized services in the following areas: cancer, heart and vascular, neurosciences, women's health, and orthopedics through Hoag's affiliate, Hoag Orthopedic Institute, which consists of an orthopedic hospital and two ambulatory surgical centers. In the 2020 – 2021 U.S. News & World Report Best Hospitals Rankings, Hoag is the highest ranked hospital in Orange County and the only OC hospital ranked in the Top 10 in California. For an unprecedented 23 years, residents of Orange County have chosen Hoag as one of the county's best hospitals in a local newspaper survey. Visit www.hoag.org for more information.

BehaVR is advancing health care access and delivery and improving patient outcomes and experiences through the pioneering use of virtual reality (VR), cloud computing, and machine learning. Founded by leading clinicians, healthcare veterans and technology innovators, BehaVR has a proprietary technology platform that enables a personalized and progressive treatment approach grounded in decades of neuroscience research and designed to educate, motivate, and activate individuals to make long-term, sustained improvements to their health. For more information, visit www.behavr.com.