Victoria Vecchio faced her first pregnancy during the pandemic, when her husband's commission to the U.S. Army sent the couple packing for Georgia – a move her employer would not support.
Pandemic, baby on the way, new move, no job. In assessing Victoria's life changes, obstetrician Patricia Lo, M.D., referred Victoria to Hoag's Maternal Mental Health program. There, she learned of an innovative answer to prenatal care: the NutureVR program.
Using virtual reality (VR), Hoag's new program helped the expectant mom learn about motherhood, connect with her baby and find a sense of calm in the midst of a very tumultuous time.
"Any time I would feel anxious, unsettled or uneasy, I would turn it on," she said. "The VR tool helped me recenter myself and draw me closer to the baby."
Developed in partnership by Hoag physicians and BehaVR, NutureVR is a first-of-its-kind program for prenatal education, pain and stress management and postpartum support.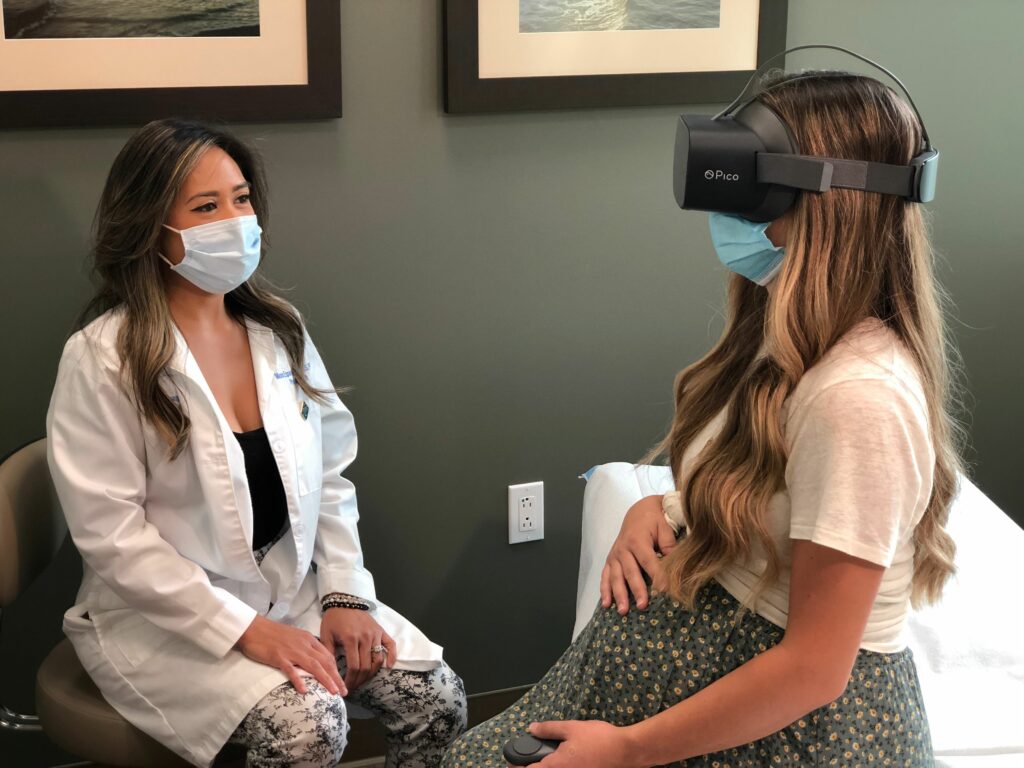 "I was so shocked that technology had come this far to help pregnant women," she said. "I felt so happy to be pregnant, but also so scared. During first trimester, it felt so hard to be connected. I was having all these big life changes, and I didn't know how to feel joyful in the most joyous moment."
Victoria was able to take the VR goggles with her to Georgia, where she moved with her husband for a few months before a deep depression kicked in. The couple decided it was best for her to split her time between Georgia and Orange County, where Victoria has a strong network of friends and family.
The beauty of the NutureVR program was that she could access it wherever she was, Victoria said.
"I could be anywhere, put it on and just focus. Focus on breathing, focus on the baby," she said. "Whenever I needed to center myself and feel excited about having a baby, I would put it on."
Eventually, Victoria said that her anxiety and depression did require management with medication, prescribed by a Hoag psychiatrist. However, after William Jr. was born on Aug. 28, 2021, the new mom did not experience any postpartum depression or anxiety, she said.
"That's what I really wanted. I didn't want to develop postpartum depression. Between the medication and the NutureVR, I was set up for success," she said.
Victoria continued to use the NutureVR program, which includes lactation education and other infant-care information, after William Jr. was born.
"I wanted to breastfeed, and the images in the program and all the information that it provided was so helpful," she said.
Nine months after her son's birth, Victoria says she is still adjusting to life as a stay-at-home mom. When depression or anxiety creeps in, Victoria closes her eyes and accesses the imagery, sounds and techniques she learned through the VR goggles. The beach scene is her favorite.
She thinks more women should know about these tools and resources and hopes that by sharing her story, women will be more open to discussing perinatal depression with their doctors and loved ones.
"I the past, depression was a taboo topic, but I am a huge advocate for talking about it and connecting other mammas who are too shy to admit to having it," Victoria said. "I even talk about it with my friends who are thinking about having a baby. It needs to be discussed more, so that women have the right tools."
Contact Your Obstetrician
For additional questions about this offering, email Hoag for Her Center for Wellness, or ask our expert obstetricians how you can experience a NutureVR demo during your Glucose Test or next OB visit. Contact Orange Coast Women's Medical Group directly at (949) 829-5500 with all other questions, or to schedule an appointment please call (949) 829-5533. We're excited to help you along your journey of health and wellness!